Fading
The Fading Series - Book One
Leath Elliott is a seventeen year old competitive shooter living with her mother in Woodvine, North Carolina. Leath's father was killed in a tragic accident when she was fourteen, and her friend Victor Santana has been there for her every step of the way since. But the friendship changes when Victor starts to have deeper feelings for her. If that wasn't complicated enough, newcomer James Turner wanders into her sights...an emancipated minor with a dark past, Leath is captivated by him and wonders if he might be the boy of her dreams - literally.
The Fading Series is published by Clean Teen Publishing.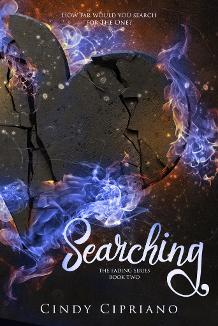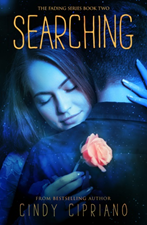 Searching - The Fading Series Book Two
To say Leath is traveling light is an understatement. She's only bringing three things on her trip. One is a silver heart locket—a gift from her longtime best-friend-turned-boyfriend Victor Santana. Next is a wedding token in the shape of a J, from James Turner. And of course, she's packing her pistol. That's it. She knows that when she leaves Woodvine, even her own mother may not remember her in the shifted reality that will be left behind. Bringing anything else would be pointless. But she's driven now, by something that eclipses everything else, something she just got back: her memories. And now that she remembers James—she won't stop searching until she finds him.
The Fading Series is published by Clean Teen Publishing.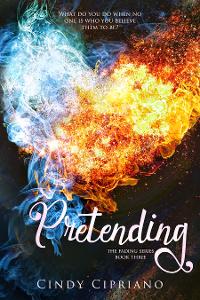 Pretending - The Fading Series Book Three
If you like a fast-paced fantasy romance with rich characters and immersive storytelling, The Fading Series is for you. Find out why it's being called a magical, romantic read that "unfolds with a gripping emotional intensity" (Kirkus Reviews).
What's a girl to do when everyone around her isn't who she believes them to be?
Leath's dreams are on the cusp of becoming reality when Judaculla magic creeps into her world, revealing itself in new and disconcerting ways. When Leath is offered a hand of friendship from an old enemy, she begins to question everything around her.
Relationships are tested, including Leath's relationship with James, who is struggling with his own demons. As time runs out for James in both worlds, Leath wonders if she ever really knew him at all.
The Fading Series is published by Clean Teen Publishing.
Believing (Book #4) Releases in 2022.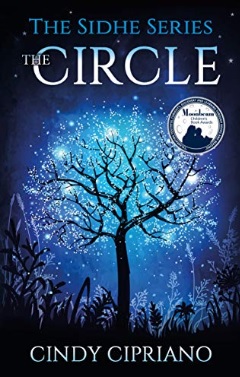 The Circle Book One of The Sidhe
Calum Ranson is sure of three things: his cousin Finley is alive, Calum will find him, and no one knows Calum and his family are Sidhe. No one until Laurel shows up at his mother's bookstore wearing a dark clan's mark.

When Calum learns the details surrounding the disappearance of Laurel's brother, he suspects the evil Hobayeth clan. Calum and Laurel work together in the Realm of Man and the Otherworld to rescue her brother – revealing a connection b
etween Calum and Laurel that may cost Finley his life.
The Sidhe Series is published by Vulpine Press.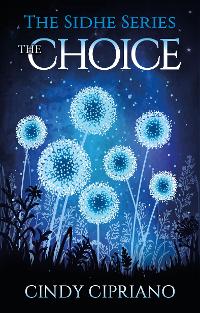 The Choice Book Two of The Sidhe Series (Coming 4/3/20)
For Calum Ranson, seventh grade brings changes in his relationships with his parents and his friends, and a confrontation with his bully. Calum's talents have also developed to a level unheard of in the Sidhe world.

When Calum goes against everything he knows is right, he makes a choice that may cost him his friendship with Laurel.
An old friend steps in, but her mysterious ways leave Calum questioning her motives.

In the second book of the Sidhe Series, Calum, Laurel, and Hagen reunite in their search for Finley. And while many things have changed, Calum remains steadfast in his belief that Finley is still alive and Calum will bring him home.
The Sidhe Series is published by Vulpine Press.
The Lost Book Three of The Sidhe Series (Coming in 2020)
Calum Ranson is now closer than ever to finding his lost cousin Finley: he knows where he is, he just doesn't know how to get there.

Adding to the challenge, Calum can no longer turn to his best friend, Hagen, who has become mysteriously close to one of their school's biggest bullies, Riley Sloan. Why has Hagen suddenly started treating Riley as his girlfriend when she used to be his enemy? Can Calum succeed in saving Finley without Hagen's help?
From studying to school dances, field trips to first kisses, the third book of the Sidhe depicts a typical middle school experience, peppered with magic, faeries, and truly heroic deeds.
The Sidhe Series is published by Vulpine Press.

Order The Lost - Book Three of The Sidhe
The Secret - Book Four of The Sidhe is coming soon!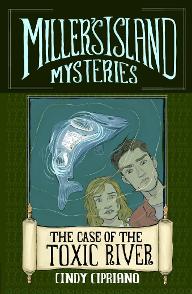 Miller's Island Mysteries #1
he Case of the Toxic River
Grace Brooks is a total and unashamed nerd. She loves her life, her friends, and her little dog Neutrino. That is until one day she's uprooted to Miller's Island, North Carolina, to start over as the new kid in school. There she meets Jack, and they quickly bond over their love of science and all things nerdy. Together they embark on an epic adventure, travelling through time to solve the mystery of The Toxic River.
Miller's Island Mysteries is published by Vulpine Press.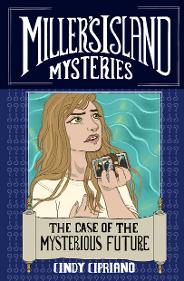 Miller's Island Mysteries #2
The Case of the Mysterious Future
Grace and Jack are still trying to come to grips with their time-travelling experience as they eagerly await their next adventure.
After making a promise that they'll always travel together, Grace is unexpectedly transported into the future alone and scared. How did she get there? And more importantly, how can she get back without Jack there with her to help?
Picking up clues as she goes, Grace must try to navigate this new Miller's Island and somehow figure out what sent her there in the first place.
Miller's Island Mysteries is published by Vulpine Press.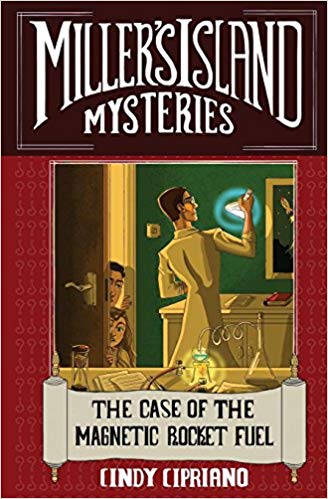 Miller's Island Mysteries #3
T
he Case of the Magnetic Rocket Fuel
Their last time-travelling mishap still fresh in their minds, Grace and Jack are on edge about what might happen next. Grace's memories of her solo trip to the future are never far away. When the future begins to seep out into the present, they must stick to the rules or risk the consequences. They set themselves the task of finding out more about the mysterious ink, ending up in the past in a mysterious science lab. Could their new discovery also shed some light onto their mysterious friends at 21BUT22?
Miller's Island Mysteries is published by Vulpine Press.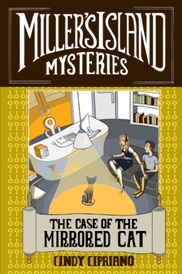 Miller's Island Mysteries #4
The Case of the Mirrored Cat
With the end of the school year fast approaching, Grace and Jack are looking forward to what their summer might bring. As a final goodbye to middle school, they decide to take one last trip from their science class, the place where their adventures all began.
What starts out like any other trip quickly goes drastically wrong when they are spotted upon their return to class.
To make matters worse, they discover the mysterious ink is having side effects not only on them, but also on their favorite travel spots. For Grace and Jack, questions are piling up faster than they can answer them as they continue to unravel the mystery of Miller's Island.
Miller's Island Mysteries is published by Vulpine Press.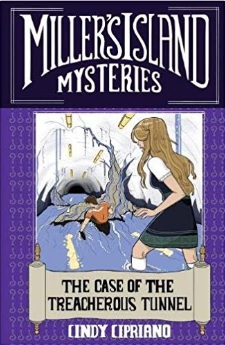 Miller's Island Mysteries #5
The Case of the Treacherous Tunnel
Middle School is finally over for Grace Brooks and she couldn't be happier for her graduation. All that lies between Grace and high school is one final summer. And what a summer it is as Grace and Jack discover yet more deeply hidden secrets and embark on their most unusual trip to date.
When Jack takes one too many secret trips, he finds himself facing the very real possibility of running out of time altogether. Can Grace gather her wits and figure out how to save him from the Treacherous Tunnel before time is up?
Miller's Island Mysteries is published by Vulpine Press.
Miller's Island Mysteries #6 - coming in 2020!